Ball Float Steam Trap | Bẫy Hơi Phao Là Gì
Float Steam Traps
________________________________________
What is A Float Steam Trap ?
- What are Float Traps ? Those are the common names of Ball Float Steam Traps. It has a working element which is a round metal ball that floats on condensate, hence the name float trap.
- Float steam trap is a thermal device used to discharge the condensate on the steam system and then discharge it will have to be pumped back into the boiler. Float steam traps have a faster and larger discharge flow than other types of steam traps.
- Using steam traps and return pumps helps to reduce steam consumption and helps save fuel for boilers.
Structure of Float Steam Trap
- Cấu Tạo Bẫy Hơi Phao: với cấu tạo dạng hình cầu tiếp xúc tại 3 điểm. Vì thế chúng loại bỏ nước ngưng tụ liên tục. Nước không còn tích tụ lại trong bẫy hơi nên chúng có độ chính xác cao. Cho nên sản phẩm có tuổi thọ cao và rất bền.
- Với các bộ phận bằng inox vì thế chúng có độ bền rất cao. Có khả năng chống ăn mòn, đảm bảo hoạt động ổn định và tốt trong thời gian lâu dài.
- Với cấu tạo có van xả khí tự động bên trong nên chúng xả khí trong đường ống ra ngoài khi bắt đầu vận hành. Vì thế, bẫy hơi nhận được hơi ngay lập tức sau khi có hơi đi vào.

Structure of Float Steam Trap
________________________________________
Operation of Float Steam Trap
- When the system starts up, the air and condensate begin into the steam trap. The air will be released through the thermostatic air vent, then the condensate enters and lifts the float up, the mechanical mechanism opens the valve to let the condensate out.
- When the float is lowered, the mechanical mechanism closes the valve, this valve always holds below the water surface, so the heat cannot escape. The up-down float makes the valve open and close continuously at different angles and balance between the incoming condensate and the outlet condensate.
- For the discharge flow and balance the force of the incoming steam pressure, the internal structure of the common steam trap has many options of valve size (orifice) to needs of discharge flow and pressure working capacity of steam trap.
- When steam begin the steam trap, the thermostatic expands and closes the thermostatic air vent, preventing steam from escaping. When the condensate drains out, the float lowers and causes the mechanical mechanism to close the orifice valve.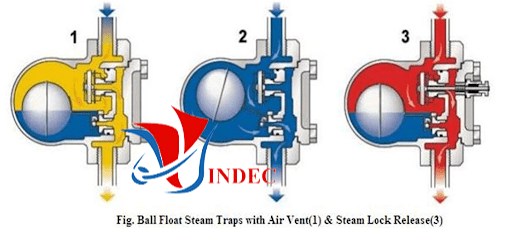 ________________________________________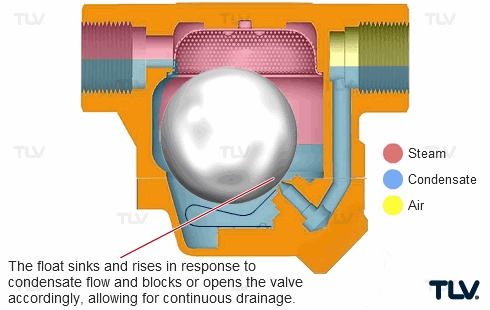 ________________________________________
Mua Bẫy Hơi VINDEC
- VINDEC là địa chỉ phân phối Bẫy Hơi uy tín tại Việt nam có thể làm hài lòng khách hàng với năng lực đội ngũ nhân viên có kỹ thuật trình độ kỹ thuật cao, được đào tạo chuyên nghiệp bài bản của hãng.
- Bảo Hành: 12 tháng theo tiêu chuẩn lắp đặt và sử dụng của nhà sản xuất.
- Miễn phí vận chuyển trong vòng 10 km nội thành HÀ NỘI
- Ưu đãi chiết khấu trên giá bán cho các cửa hàng, đại lý và đối tác lấy số lượng nhiều.
- VINDEC cam kết cung cấp đúng chủng loại sản phẩm do chính hăng sản xuất mà chúng tôi đang cung cấp, đảm bảo chất lượng, đúng nguồn gốc, đầy đủ chứng từ nhập khẩu ( CO-CQ )
- Quý khách hàng có thể tìm kiếm hoặc Download về máy Catalogue sản phẩm Bẫy Hơi của hãng tại Website của chúng tôi với thông số kỹ thuật rõ ràng chính xác nhất của hãng tại: BẪY HƠI PHAO
- VINDEC chúng tôi có Kho Hàng tại Hồ Chí Minh và có Kho Hàng + Xưởng Sản Xuất với diện tích trên 2.000m2 tại HÀ NỘI
- VINDEC với năng lực và kinh nghiệm trên 15 năm cùng với đội ngũ kỹ sư giầu chuyên môn, chúng tôi tự đáp ứng được các dự án lớn về hàng Van Công Nghiệp chúng tôi luôn đồng hành cùng phát triển.
Admin: VINDEC
Xem thêm