Cast Steel Ball Valve, Fire Safe, ANSI 150 Flanged
Cast Steel Ball Valve, Fire Safe, ANSI 150 Flanged
Van Bi Thép Chống Cháy Nổ Lắp Bích Ansi 150
Two piece two way ANSI 150 flanged fire safe approved ball valve, lockable lever operation. Carbon Steel body, PTFE seats, FKM backing ring, live loaded packing and anti static device. Ball valve designed & manufactured to ANSI B16.34, face to face complies with ANSI B16.10, flange ends comply with ANSI B16.5 and testing and inspection according to API598. Firesafe Approved API607 Sixth Edition, Cert Number 249037. ISO5211 Mounting Pad allowing direct coupling of actuation. Media temp -20°C to 180°C.
FEATUERS
Size: 15mm to 300mm
Body: Carbon Steel
Seat: PTFE
Pressure: 150 pound
Temperature: -20°C to 180°C
Actuation: Lockable Lever or Gearbox
Fire Safe API607 6th E. Cert.
CẤU TẠO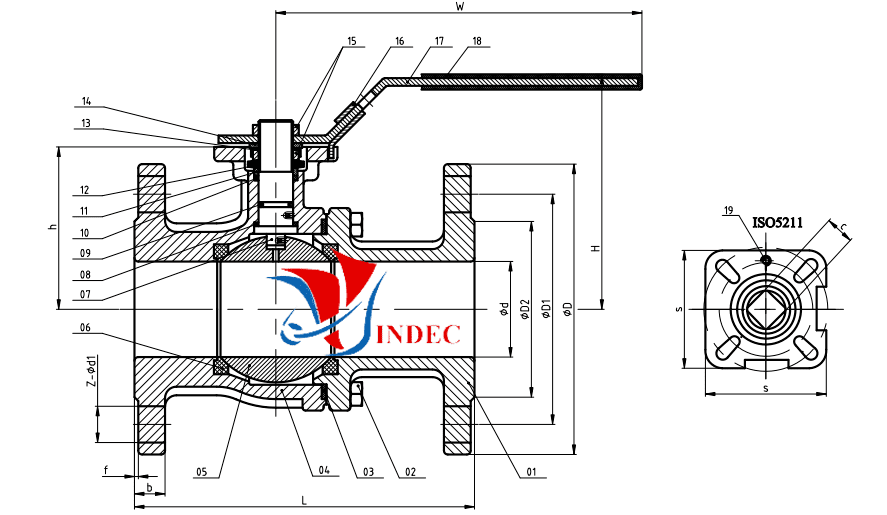 | Item | Part | Material | Qty |
| --- | --- | --- | --- |
| 1 | Cap | WCB | 1 |
| 2 | Bolt | SS304 | 4(8) |
| 3 | Body Gasket | Pure Graphite | 1 |
| 4 | Body | WCB | 1 |
| 5 | Ball | SS316 | 1 |
| 6 | Ball Seat | Pure PTFE | 2 |
| 7 | Stem | SS316 | 1 |
| 8 | Thrust Washer | Pure PTFE | 1 |
| 9 | O-ring | Viton | 1 |
| 10 | Stem Packing | Pure Graphite | 1 |
| 11 | Packing Ring | SS304 | 1 |
| 12 | Belleville Washer | SS301 | 2 |
| 13 | Nut Stopper | SS304 | 1 |
| 14 | Plate Washer | SS304 | 1 |
| 15 | Nut | SS304 | 2 |
| 16 | Lock Device | SS304 | 1 |
| 17 | Handle | SS304 | 1 |
| 18 | Plastic Cover | Plastic | 1 |
| 19 | Stop Pin | SS304 | 1 |