GARLOCK Company | GARLOCK - USA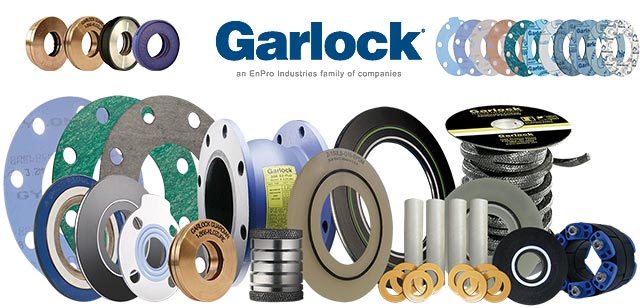 GARLOCK COMPANY
- Garlock is a global manufacturer of high-performance sealing solutions with an emphasis on safety, longevity, and productivity. We work closely with our end-user customers, distribution partners, OEMs (original equipment manufacturers), industry associations, and government entities to understand their unique sealing challenges and respond with innovative solutions that keep people safe and the environment protected.
- With a history dating back over 130 years, Garlock today maintains a global presence of manufacturing and distribution facilities that allow us to meet our customers' needs with unprecedented responsiveness and ingenuity.
- By combining the most innovative products with unparalleled service and a strong commitment to the environment, we deliver solutions that improve plant productivity, reduce costs, and comply with increasingly stringent environmental regulations.
- Garlock, also known as Garlock Sealing Technologies, is an Enpro (NYSE: NPO) company.
PRODUCTS OF GARLOCK COMPANY
Browse below to view our time-tested products that serve a wide variety of markets, including Chemical Processing, Food and Beverage, Marine, Mining, Nuclear, Oil and Gas, Pharmaceutical, Power Generation, Primary Metals, Pulp and Paper, Water and Waste Water, and more.
- Bearing Protection: KLOZURE® rotary bearing isolator labyrinth and lip seals to protect bearings.
- Compression Packing: Maintain process safety, efficiency, emissions compliance, and resource conservation.
- Diaphragms for Pumps and Valves
- Expansion Joints: Non-Metallic Expansion Joints ideally suited for a wide range of industries and applications.
- Gaskets: The gold standard of sealing for over 125 years. Our Gasket Sheet Materials, Metallic, and Non-Metallic Gaskets are made using unique, proprietary materials designed by expert engineers
- Hydraulic Components: Custom-made rubber compounds and polymers shaped in our proprietary Chevron® design.
- Industrial Hose: Provides extended service life compared to competitor offerings, even in the most abrasive applications.
- ePTFE Joint Sealant
- Mechanical Seals: PS PTFE Lip Technology, Cartridge, and Face Seal assemblies to seal equipment where a rotating shaft passes through the pressure boundary.
- Oil Production Seals
- Pipe Casing Spacers and End Seals: Industry-leading Casing Spacers and End Seals trusted for superior sealing where it counts.
- PTFE Tape
- Valves: Butterfly Valves and Accessories for Sterile, Corrosive, Toxic and Abrasive Applications.
- Water Infiltration Sealing Systems: Industry-leading water infiltration sealing systems trusted for superior protection where it counts.
MUA TẤM GIOĂNG GARLOCK
- VINDEC là địa chỉ phân phối VẬT LIỆU LÀM KÍN uy tín tại Việt nam có thể làm hài lòng khách hàng với năng lực đội ngũ nhân viên có kỹ thuật trình độ kỹ thuật cao, được đào tạo chuyên nghiệp bài bản của hãng.
- Quý khách hàng có thể tìm kiếm hoặc Download về máy Catalogue sản phẩm THIẾT BỊ LÀM KÍN của hãng tại Website của chúng tôi với thông số kỹ thuật rõ ràng chính xác nhất của hãng tại: TẤM GIOĂNG KHÔNG AMIANG
- Thêm vào đó, VINDEC chúng tôi có Kho Hàng tại Hồ Chí Minh và có Kho Hàng + Xưởng Sản Xuất với diện tích trên 2.000m2 tại Hà Nội.
- VINDEC với năng lực và kinh nghiệm trên 15 năm cùng với đội ngũ kỹ sư giầu chuyên môn, chúng tôi tự đáp ứng được các dự án lớn về hàng Gioăng Làm Kín, chúng tôi luôn đồng hành cùng phát triển.
Biên soạn!
Admin: VINDEC
Xem thêm