LATTY - INDUSTRIAL SEALS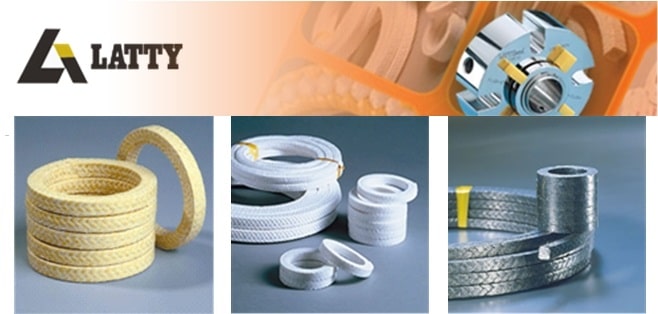 LATTY GROUP
INDUSTRIAL SEAL - THE FRENCH SPECIALIST
Over 95 years of manufacturing industrial seal in France
Founded in 1920, GROUPE LATTY is managed by Christian-Xavier Latty. From the outset, the Group's customers have benefited from its know-how in the design, creation and development of manufacturing processes for sealing solutions.
At its plant at Brou, France, GROUPE LATTY designs and manufactures products that satisfy the most demanding industrial requirements.
GROUPE LATTY covers a broad spectrum of sealing-related products including:
packings (mechanical packings)

rotary unions

static seals and flange gaskets
A reputation for quality
GROUPE LATTY has built up its reputation by adhering to very strict quality rules that guarantee the reproducibility and security of its products.
Latty products are essential in ensuring the leak-tightness of complex industrial processes.
Our products' added value - the quality and durability of the raw materials used - enables our customers:
to limit the release of gases into the atmosphere (fugitive emissions)

to ensure security and protect the environment

to reduce maintenance costs

to extend the lifetime of the production plant.

R&D, test laboratory
GROUPE LATTY invests an average of 5% of its annual revenue in research and development for new products and processes. The company has built a test laboratory at its production site in order to be able to test its products under optimum conditions and on customers' own equipment.
Seal-using industries:
food processing,

sugar processing,

chemicals,

petrochemicals,

pharmaceuticals,

water treatment,

pulp and paper,

energy production,

aeronautics, automotive and shipbuilding,

mining,etc.
Our products are also used by a large number of OEMs to manufacture pumps and industrial valves and fittings.
Mua Gioăng Phớt LATTY
- VINDEC là địa chỉ phân phối THIẾT BỊ LÀM KÍN uy tín tại Việt nam có thể làm hài lòng khách hàng với năng lực đội ngũ nhân viên có kỹ thuật trình độ kỹ thuật cao, được đào tạo chuyên nghiệp bài bản của hãng.
- Quý khách hàng có thể tìm kiếm hoặc Download về máy Catalogue sản phẩm VẬT LIỆU LÀM KÍN của hãng tại Website của chúng tôi với thông số kỹ thuật rõ ràng chính xác nhất của hãng tại: THIẾT BỊ LÀM KÍN
- Thêm vào đó, VINDEC chúng tôi có Kho Hàng tại Hồ Chí Minh và có Kho Hàng + Xưởng Sản Xuất với diện tích trên 2.000m2 tại Hà Nội.
- VINDEC với năng lực và kinh nghiệm trên 12 năm cùng với đội ngũ kỹ sư giầu chuyên môn, chúng tôi tự đáp ứng được các dự án lớn về hàng Vật Liệu Làm Kín, chúng tôi luôn đồng hành cùng phát triển.
Admin: VINDEC
Xem thêm