Manual & Mechanical Air Valves
Manual & Mechanical Air Valves | Manual Hand Pull Valves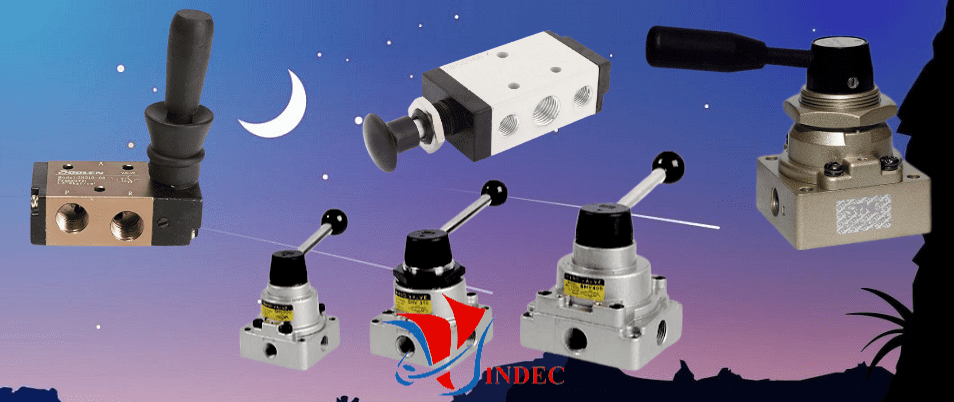 Manual & Mechanical Air Valves
___________________________________
Manual & Mechanical Air Valves
- Manual air control pneumatic hand pull valve with lever.
- Manual or mechanical valves are often used in more traditional installations. Manual valves are those used directly actioned by the operator. Mechanical valves are where the machine or process will operate or 'trip' the valve.
- Valves are controlled by manpower. 5/2,3/2,5/3 way valves are normally designed from 1/8" to 1/2". Hand-draw valves are normally installed near the operator. Hand-pull valves are normally installed in the position little far from the operator Hand-push valves are installed directly on the pipeline. rotary valves are 4/3 way, from 1/4" to 1/2" in different styles. There are two joint pipes types: pipe connection type on the side, pipe connection type on the bottom and plate connection type.
___________________________________
Description -

Manual & Mechanical Air Valve
- Manual valve is a manual change element.When the valve is motioned by hand,the valve caitridge changes and thus changes the direction of airflow. Valve is Easy to Operate, Easy to Install and Easy to Remove. The Valve Body is Made of High Precision Aluminum with High Hardness and Long Service Life. Each Thread is Finely Processed, No Burrs, Smooth and Easy to Install. The Valve Body Contains a High Concentricity Seal Ring, Which is Not Easy to Leak, and the Rubber Pad with Lubricating Oil Reduces Friction. The Inner Hole is Processed by Special Process, with Small Friction Resistance and Long Service Life.
___________________________________
Feature -

Manual & Mechanical Air Valve
- We strive to be perfect in every detail.
- Strict selection of each part,including the material and other spare parts.
- Fine processing of thread and good sealing performance fulfll high quality of the hand valve.
- Note : NPT thread can be customized.
___________________________________
Types of Manual & Mechanical Air Valve
- Hand Pull Valve
- Hand Leval Valve
- Hand draw Valve
- Hand Rotary Valve
- Hand Sliding Valve
___________________________________
Mua Van Cơ Khí Tay Gạt
- VINDEC là địa chỉ phân phối VAN KHÍ NÉN uy tín tại Việt nam có thể làm hài lòng khách hàng với năng lực đội ngũ nhân viên có kỹ thuật trình độ kỹ thuật cao, được đào tạo chuyên nghiệp bài bản của hãng.
- Quý khách hàng có thể tìm kiếm hoặc Download về máy Catalogue sản phẩm của hãng tại Website của chúng tôi với thông số kỹ thuật rõ ràng chính xác nhất của hãng tại: VAN ĐIỆN TỪ KHÍ NÉN
- Thêm vào đó, chúng tôi có Kho Hàng tại Hà Nội và Hồ Chí Minh và có Kho Hàng + Xưởng Sản Xuất với diện tích trên 2.000m2 tại Hà Nội.
- VINDEC với năng lực và kinh nghiệm gần 20 năm cùng với đội ngũ kỹ sư giầu chuyên môn, chúng tôi tự đáp ứng được các dự án lớn về hàng Van Công Nghiệp chúng tôi luôn đồng hành cùng phát triển.
Admin: VINDEC
Xem thêm